Hello friends!
For those of you that have not electronically or actually signed our member agreement please do so.
Also a few of you are using our instagram hashtag, #sugarcampfarmtn to show us your amazing creations with our veggies! If you are on instagram, post photos of what you're making so others can get ideas! Here's the link to our instagram and facebook.
It's been an uneventful week! We said goodbye to Audrey and Julia on Tuesday. They were kind enough to stay for harvest that day before they departed and left us the sweetest note as well. Dang! We love WWOOF USA!
One thing that is always awesome on the farm is the food. I would like to argue that no on except maybe a chef eats better than a farmer. And that depends on the chef. Here are few things we've really enjoyed (Most of us don't cook with recipes. So, let us know if there's something you'd like to try and we can explain how we did it):
This is a small sample of how we eat most of the time. Yesterday I ate a quick lunch of massaged kale salad. Then Devan and Nico and I went to the movies and Devan packed a bag full of turnips, carrots and sugar snap peas. There was no one else there and we crunched away on our veggie dinner! I went to see the Jungle Book instead of write this email. So sorry it is late but it was worth it! This week I hope to do some ice cream with peaches from our bulk food group and raw milk from our friend Jimmy. I also plan to make kimchi and sauerkraut this weekend. YUM! Can't wait for cukes to come it for pickling! They should be here in the next couple of weeks! There are little tiny cucumbers on the the vines already.
This next week we will be without additional WWOOFers but we hope to make headway on our WWOOFer bedroom in the barn. We are sealing off and insulating our tack room and will have a kitchen out there too some time soon. We're pretty excited about it! Also, we will be planting sweet potato slips! There are getting HUGE! Even though last year we planted them around this time, they were much smaller! i think because we've had such a warm spring! Because we don't irrigate (yet!, it's in the plans for fall planting but we will avoid it if we can!) we are dependent on the rain for planting. On the day before a rain, we go nuts getting everything prepped for seeding and transplanting and we've worked till 11pm at times trying to get plants in the ground and watered before a rain. It's kind of fun transplanting with a head lamp.
Here are a few photos from the week!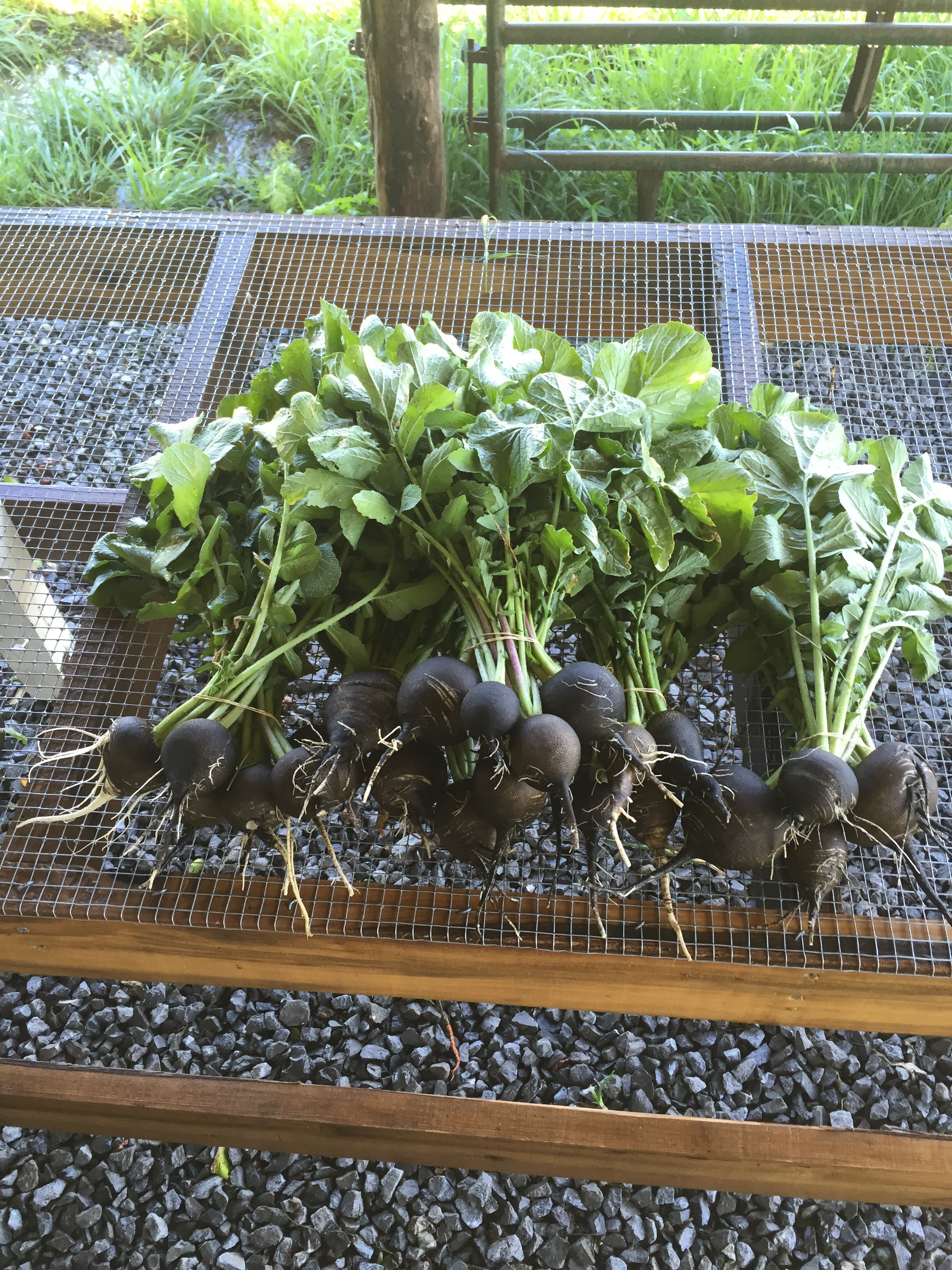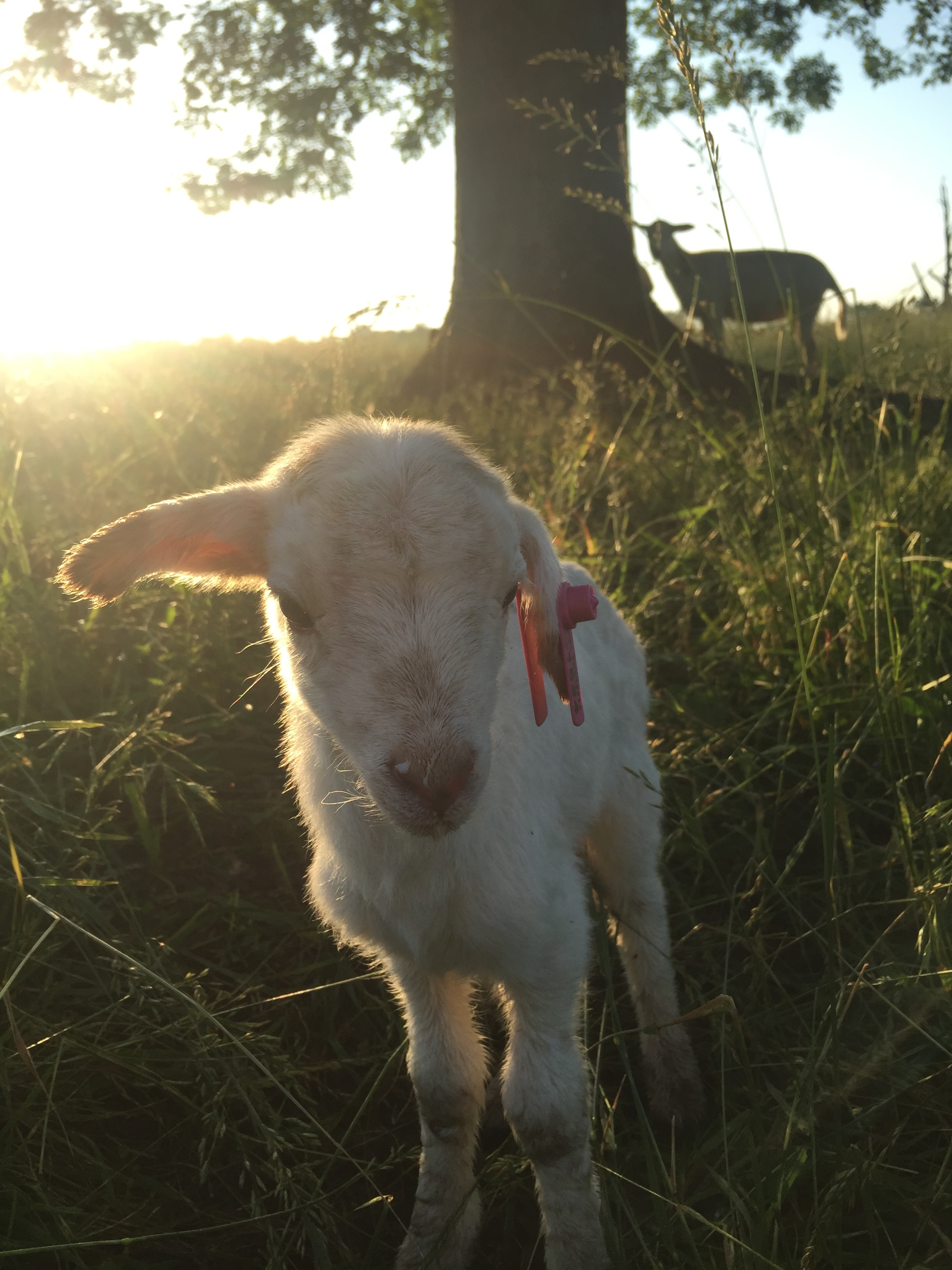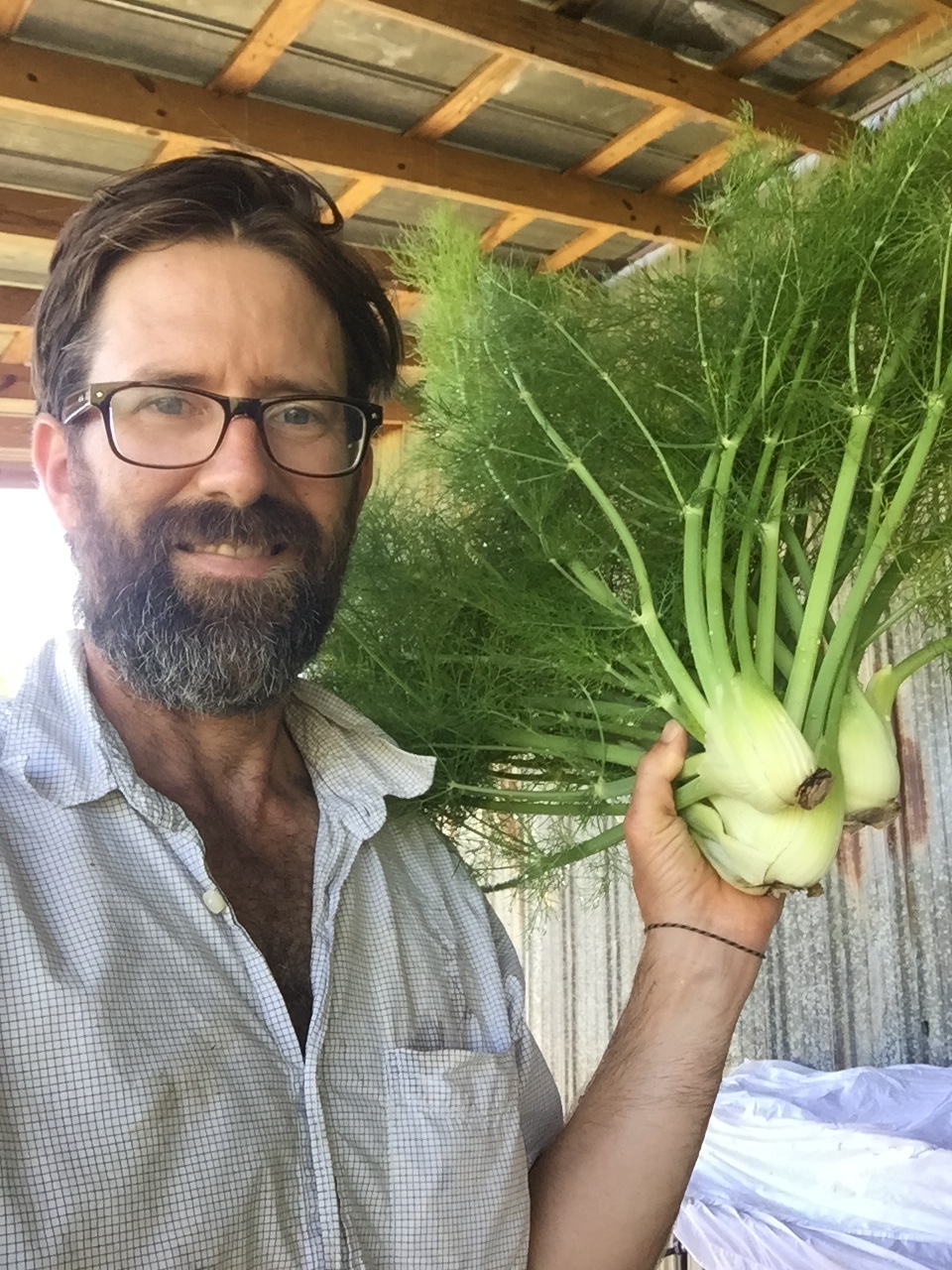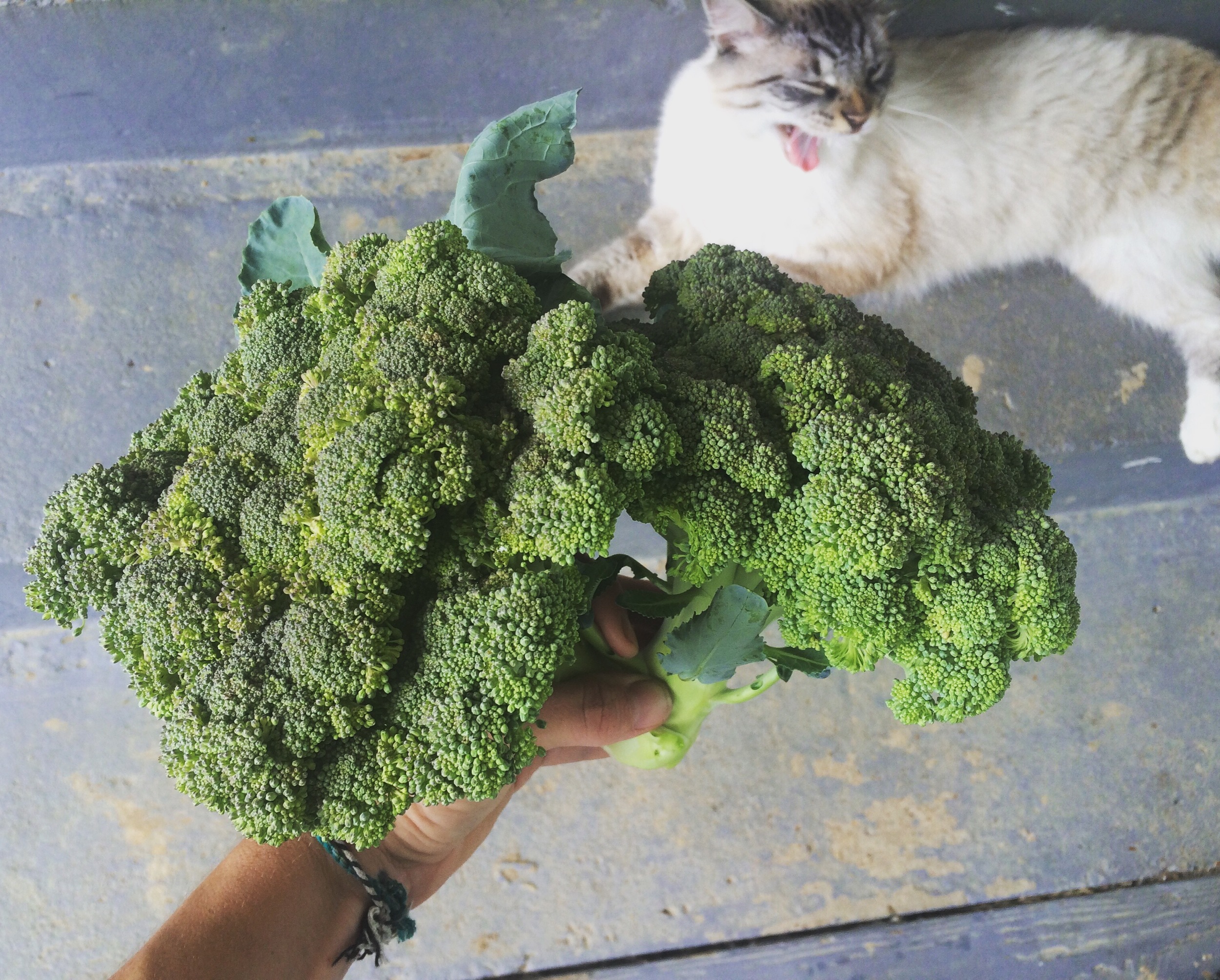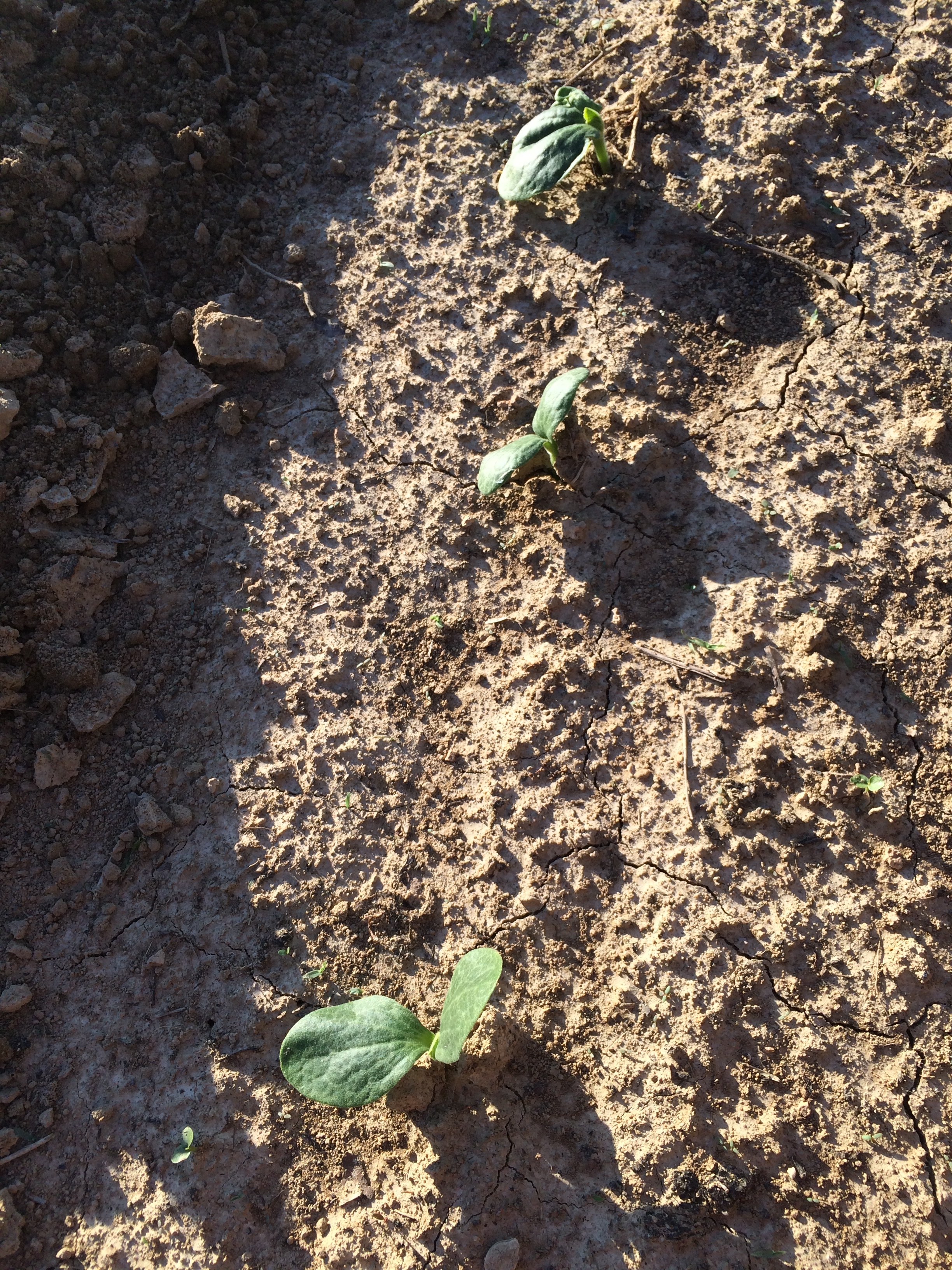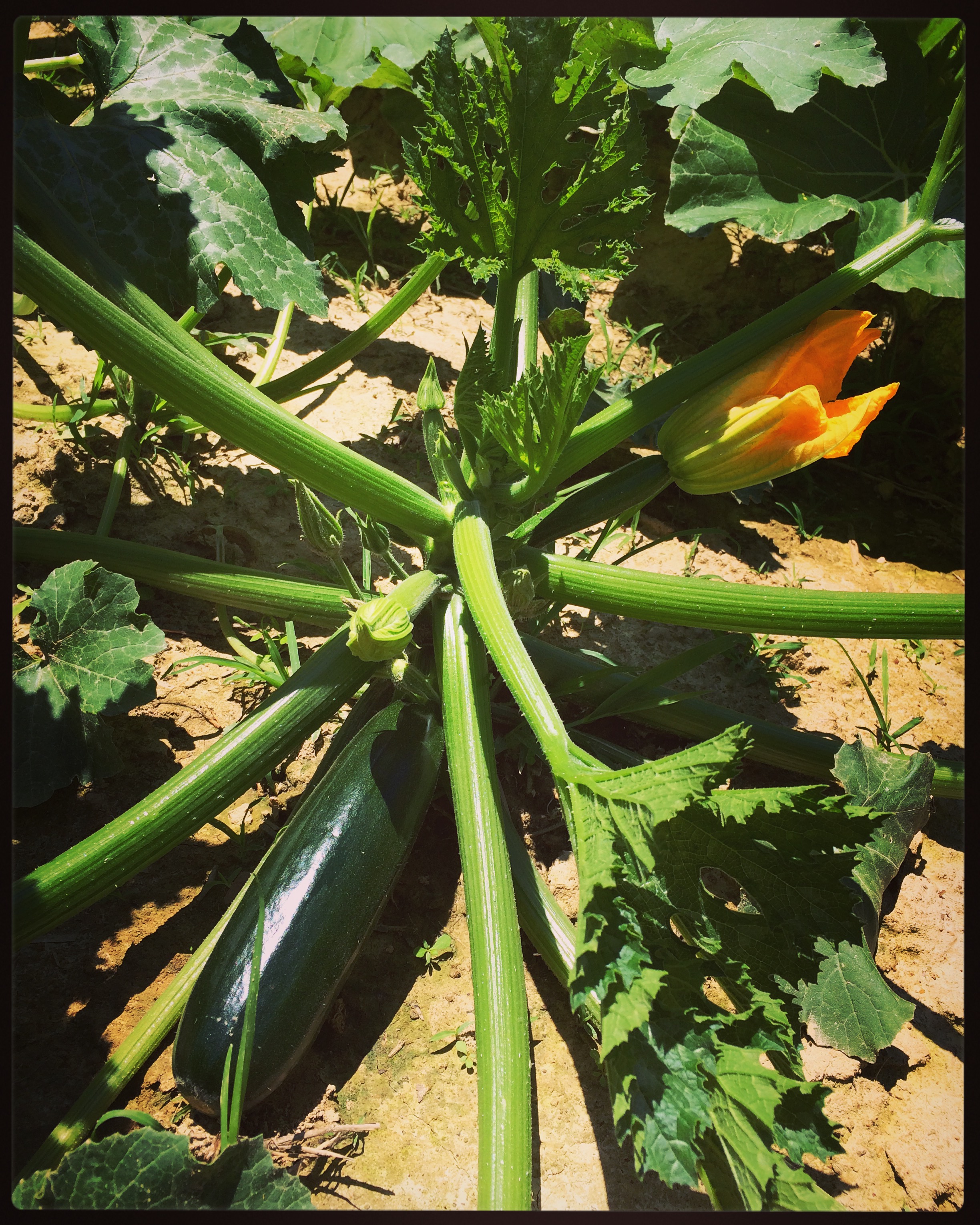 Baby Lamb is doing pretty a lot better and is even hopping around playfully! He is still smaller than the others and has not yet been adopted by a mom. But in the next month and a half he will be weaned and able to eat grass on his own.
Now for the CSA share this week!
There is quite the haul this week! We know lots of you got your broccoli a week early and so we wanted to make sure there was enough for this week too. Although we wanted to put peas in again, we don't think they'll stretch to Tuesday. We will have a ton of them tomorrow at market and whatever's left, we'll harvest on Tuesday and will have them for sale there. We'll do a deal for CSA members at $3.50 a pint instead of $4. But they go quickly so come early.
A note about organically grown food: As part of what we do here, we want to educate our members about imperfect looking produce. Grocery stores have trained us to expect the absolute most perfect looking produce. The amount of produce that is insect damaged or otherwise imperfect that goes to waste is astronomical! Here is a fact sheet about it! Farming beyond organically means that we use no synthetic fertilizers, fungicides, herbicides, or pesticides. No chemicals, period. We even ask that people don't where bug spray into the field so it doesn't get on your food. All of this means that some things get bug damaged. Bugs are an important part of farm's ecosystem. They won't hurt you or render your food inedible. They just sometimes take a little before you. We try our best to get you produce that has not been affected by insects. But we also won't waste perfectly good, wonderful tasting produce that has some bug damage. We hope that you can get behind this as we are striving to provide you with the best produce with zero chemicals using the most environmentally sound principles we can. This week, the turnips aren't as pretty and white as before. But they are still delicious. We ate them for lunch today. Roasted with turmeric and orange zest. Thanks for your understanding!
BEETS
Roasted Beet and Arugula Salad
You could substitute lettuce or mustards here.
Wheat Berry Salad with Roasted Beets, Kale and Chèvre
Roasted Beet Salad with Cumin and Cilantro
FENNEL
Fennel Ideas from Edible Nashville
You can use one bulb on fennel and more carrots if you so please.
SPANISH BLACK RADISH
Health Benefits of Spanish Black Radish
SUMMER SQUASH (this includes zucchini, zephyr squash (yellow and green), and patty pan squash (looks like a flying saucer).
Summer Squash with Rosemary and Lemon
You can substitute any summer squash for zucchini in zucchini bread, by the way. We'll do plenty more summer squash recipes as it continues to roll in throughout the summer.
Thanks again for your support everyone! Here are a couple of things to look forward to over the next 2-3 weeks! Veronica Romanesco cauliflower and green beans comin atcha!
Love your farmers,
Lizzie, Jesse, Tony, Devan, Nico, Winnie (washing station hang out buddy), Stormy (who contrasts beautifully with the large sitting chair cover, Baby Lamb, Sheep, ducks and Cows